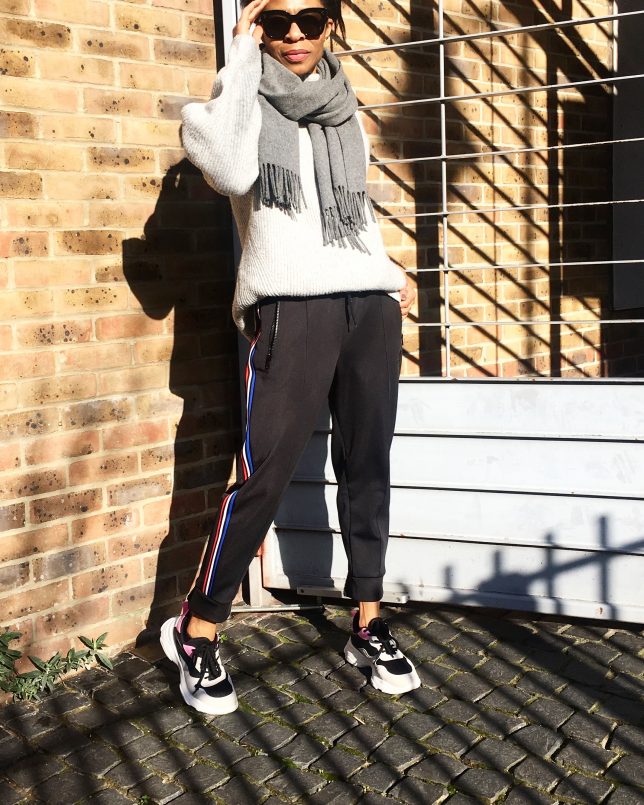 I am old enough to remember shell suits and Juicy Couture velvet track suits. So, it's fair to say that I was a little bit skeptical as work-out gear-based fashion (aka "athleisure") started to gain traction a few years ago. Same goes for the recently re-surfaced ugly trainers trend.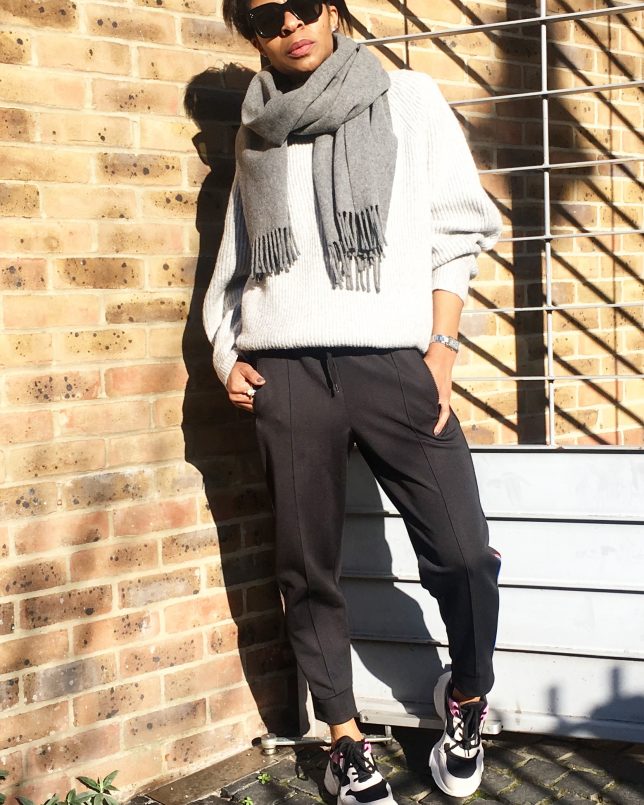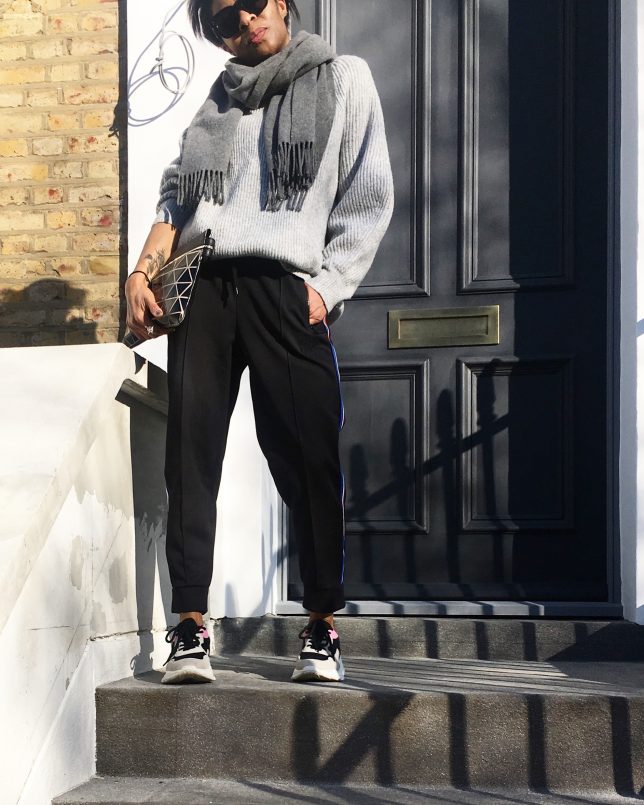 Athleisure? It's sports-luxe darling. 
So what's changed my mind? Well, the progression from lycra to a more style-focused look has definitely helped. And I was already a stickler for comfort and function in everything I wear anyway. The quality and variety of styles on offer has also been surprisingly good (not a shell suit in sight) with all the major high street brands stocking a decent range to suit all budgets. These striped retro track pants are by British label Être Cécile. Famed for cheeky franglais-slogans and punchy prints on classic t-shirts, sweats and denim, I especially like their retro track wear.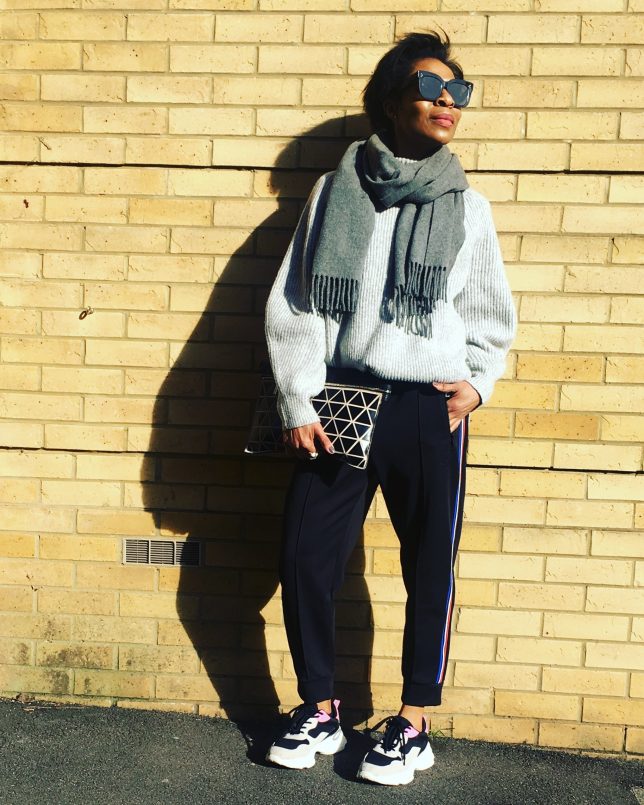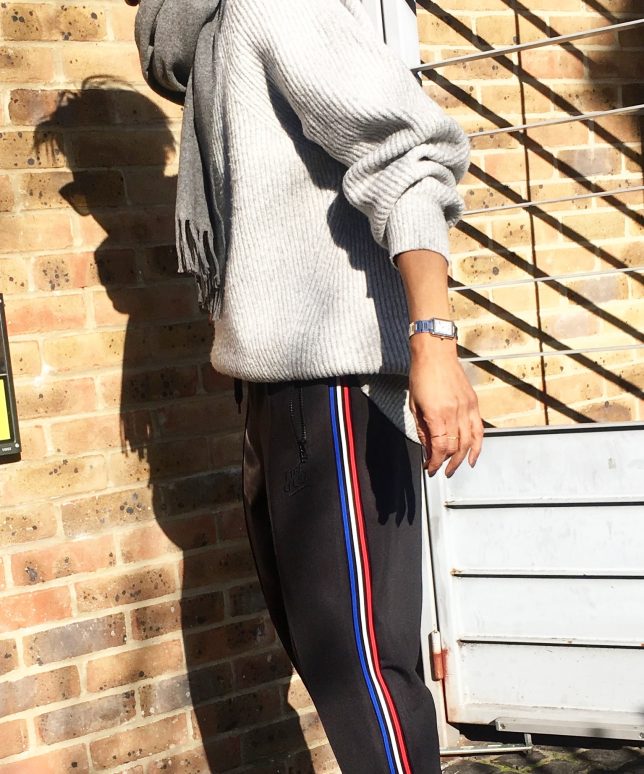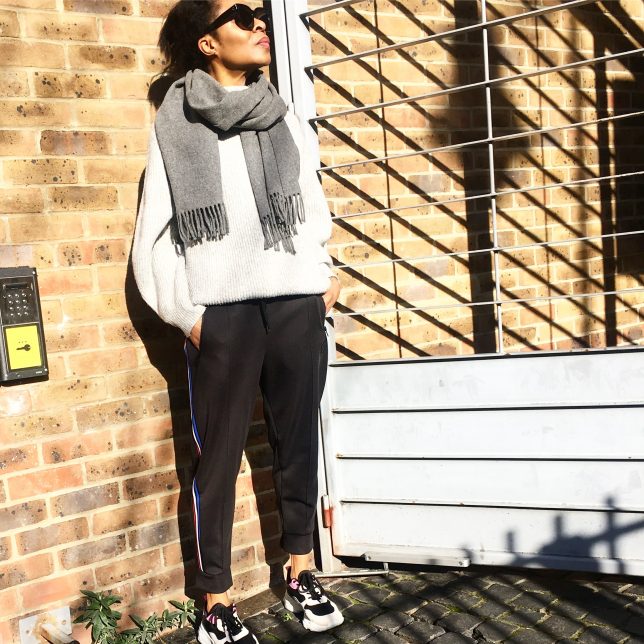 But I'm not completely there yet with ugly kicks.* 
I've found ugly trainers a harder sell. Partly because it's such an obvious trend, so the risk of ending up with something with a short shelf life is high. They don't come cheap either. At the high-end, Balenciaga's Triple S trainers range – arguably the most sought after – starts from around £615.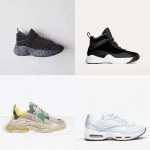 Praise the fashion gods yet again for the British High Street. If, like me, you are not yet totally convinced but wouldn't mind a little dabble in the trend anyway there is very decent fare on offer by most High Street brands. This excellent version by Primark which, dare I say it, I might even prefer to the Triple S thanks to it's minimalist take on the look – and at a fraction of the cost (under £40) – is ideal for tapping into the trend as I wait for the Triple S to land in the sales. (Given their instant cult status, this won't be happening any time soon. Sigh.)
So all in all, I'd say not quite 90s cringe.  Like this look and want to shop it? Scroll down. Coming up soon: "How to style your ugly trainers"! 🙂
Thanks for reading.
Addie x
*Insert – clockwise from l-r: Acne Studios; Zara; Mango; Balenciaga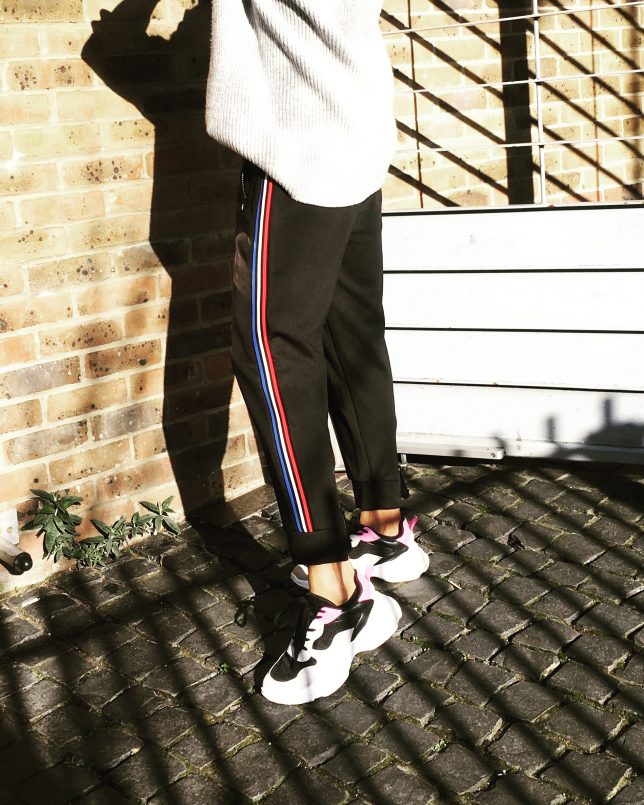 I am wearing:
Track pants (Être Cécile)| Trainers (Primark)| Jumper (H&M)| Scarf (Acne Studios)| Sunglasses (Celine)
Shop this look (or similar):
Joggers: Être Cécile Casual track pants  (or similar: Whistles Eylse side stripe trouser)
Trainers:  Sold out. (Shop similar*:Zara Sneakers With Contrasting Seams;  Topshop Chicago Lace-up Trainers)
Oversized Jumper: Sold out.  (Shop similar: Cos Oversized Wook-knit Jumper; Acne Studios  Oversized Sweater)
Scarf: Acne Studios: Canada Fringed Scarf Grey Melange.
*Topshop and Zara both have a decent range with prices from £40 – £85. These two are closest to the ones I'm wearing but you can of course opt for something else!