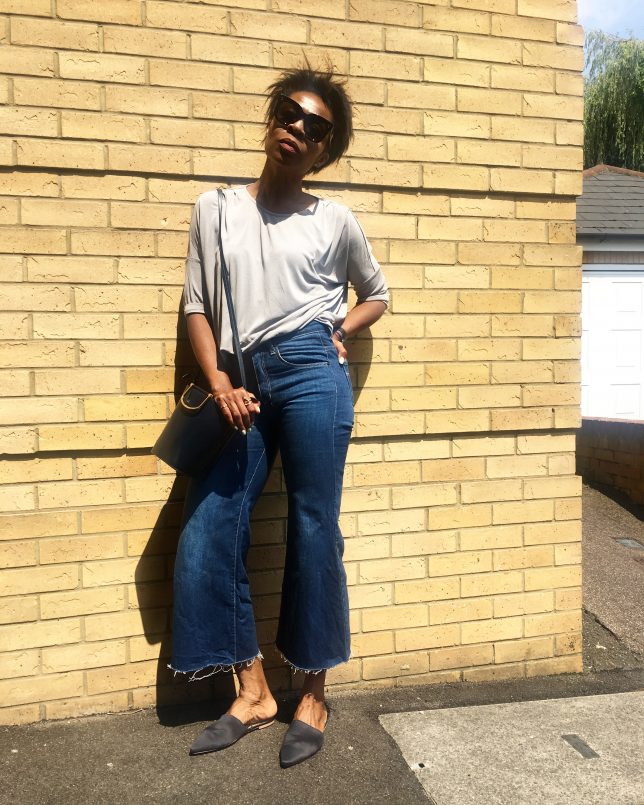 Teaching old jeans new tricks. I've had these 18th Amendment jeans since 2008 (BC: before children!) when it was still possible to mooch around town in floor-length flares and stacked shoes. Obviously not so practical nowadays which is why I hadn't worn them for years…….until I gave them the chop.
Playing around with hemlines is a quick way of reviving (and personalising!) any old pair of jeans. So don't be daunted, get acquainted with a decent pair of scissors and go for it:
#1.  Put on your chosen jeans and decide where you want the new hemline to be. Mark the spot (with a marker/highlighter) or tack with pins.
#2. Lay the jeans flat and make sure you've marked the same length on both legs. If in doubt, use a ruler.
#3.  Cut both legs at the same time. I usually do this with the jeans folded lengthwise. Make sure you smooth out any creases especially around the seat of the jeans. If you are new to this, I'll suggest cutting them a little longer than you think you need at first, then carefully cutting back higher to the desired length (always cutting both legs at the same time).
#4. Fray by teasing out loose fibres with your fingers.  I usually don't bother as this will naturally occur after the first wash.
#5.  Enjoy your "new" pair of jeans!
Thanks for reading. Any thoughts? Let me know!
Love
Addie xx