Don't you just love it when you rediscover something that you haven't worn in a long time and fall in love with it all over again?  The thrill of a "new purchase" mixed with the smug satisfaction that comes with a bargain?  If you follow me on Instagram you"ll have seen this distressed wool blazer  – by Japanese label Gomme –  featuring a few times in recent posts.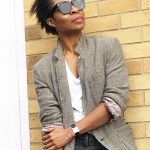 A new purchase perhaps? Well, it was when I bought it 10 years ago! From the men's range (Gomme Homme), I love it's timeless slouchy and androgynous cut.  But, as I hadn't worn it for a few years it nearly didn't survive my last annual wardrobe cull. I'm glad I hung on to it. In fact, since its resurrection it's seen so much action that it's probably now a tad more distressed than originally intended. 🙂   The fact that it's lasted this long is a real testament to buying well and investing in good quality timeless pieces.  So, two things: first, girls you can't go wrong with a decent mannish blazer – doesn't  have to be wool. A definite forever piece. Second, when did you last shop in your own wardrobe? Maybe take a peek before hitting the shops next time – who  knows what surprising rediscoveries lie within!
Addie x
Editor's note:  Buy Well Wear Forever. This is something that I come back to over and over again. So, to show that I (sometimes) practice what I preach each Wardrobe Treasures post will feature something that I've had for a long time (in some cases decades) which is still on active duty!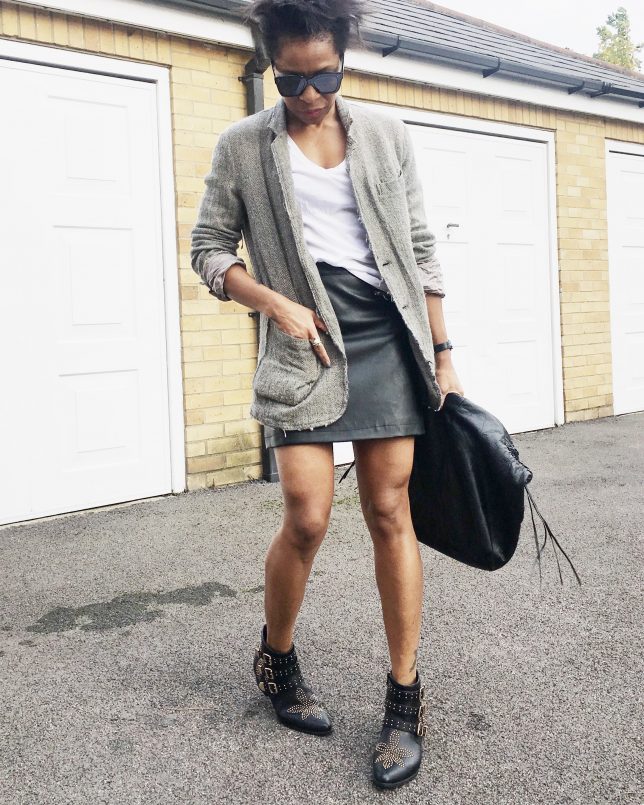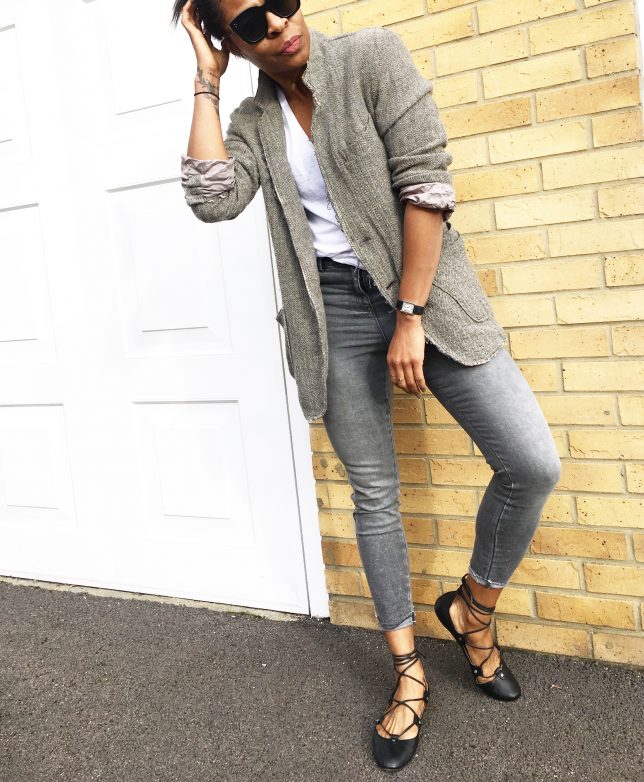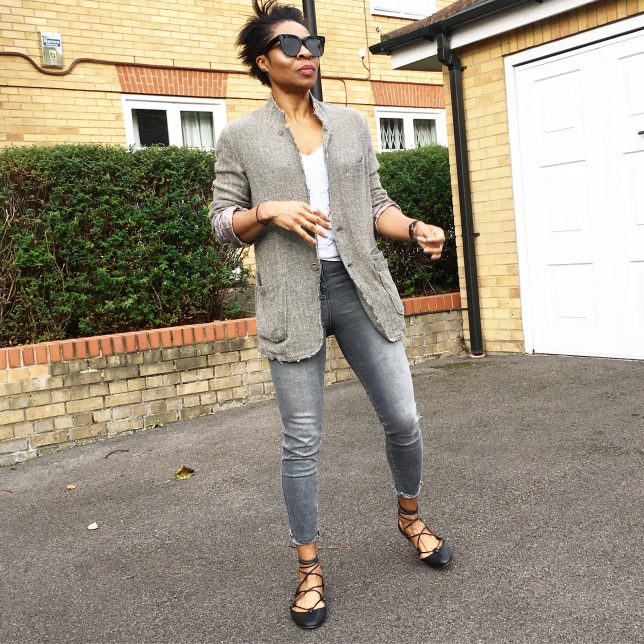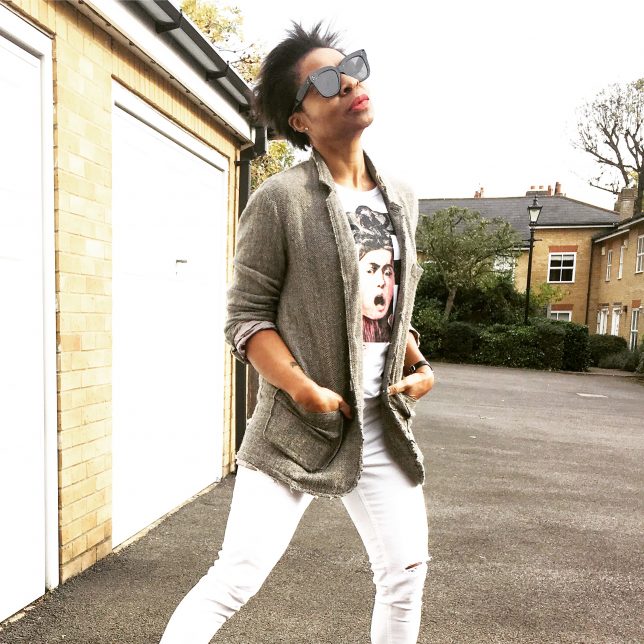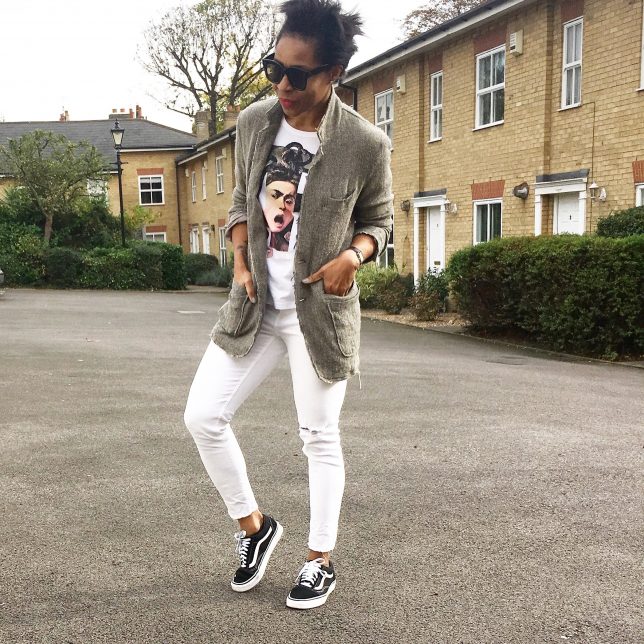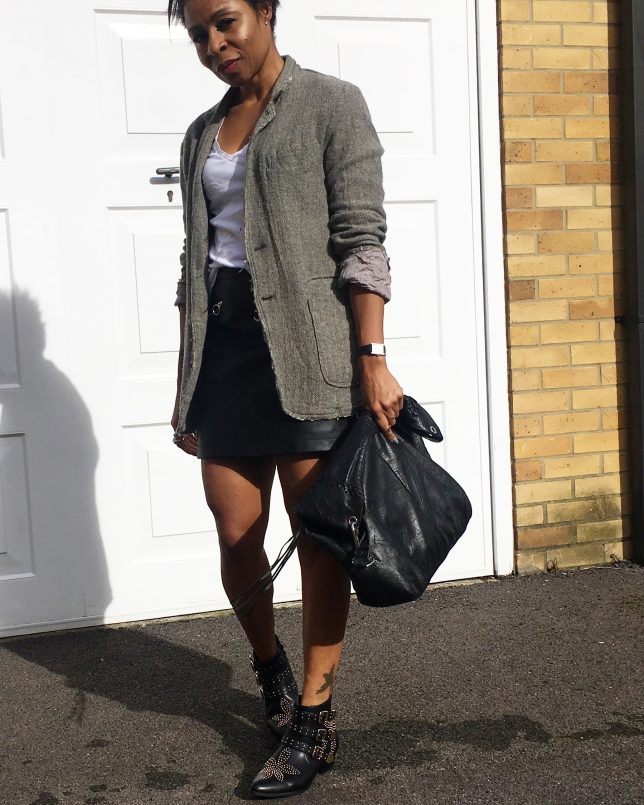 What I'm wearing:
Outfit #1: Blazer (Gomme); T-shirt – plain (Gap);  Leather skirt (Primark); Bag (Niccoli); Boots (Deichmann); Sunglasses (Celine) | Outfit #2: Blazer (as before); T-shirt (Cos); Jeans (Primark); Shoes (Isabel Marant); Sunglasses (as before) | Outfit #3: Blazer (As before); T-shirt – logo (Vivienne Westwood); Jeans (H&M); Trainers (Vans); Sunglasses (As before) |