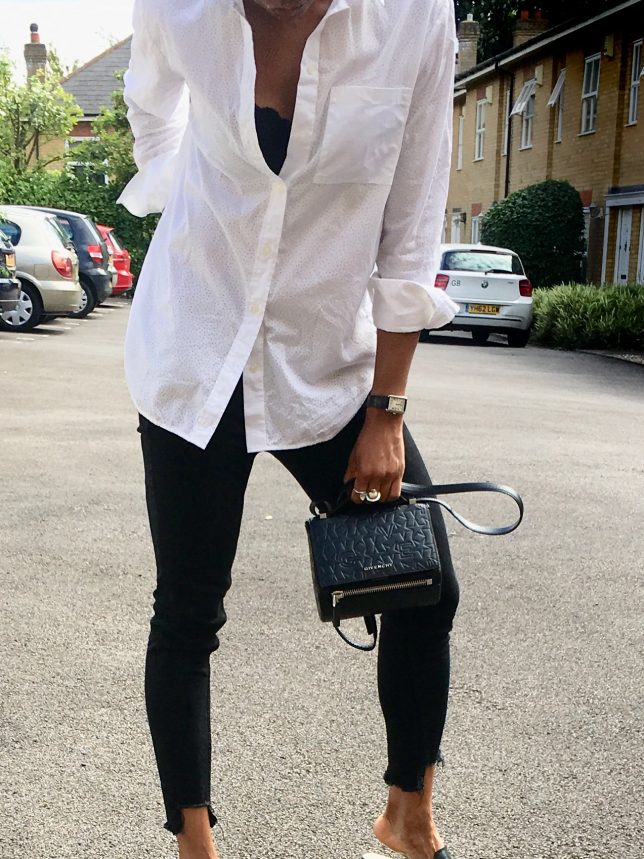 I love my high-end pieces obviously but, they are a special treat.  And actually if I could, I'm not sure that I would go designer all the way. For one thing, I have certain limits  – ok there aren't many(!) but there are some. Paying more than £100 for a plain cotton t-shirt* for example. (This is based on nothing other than my utter conviction that the quality achievable by cotton is finite. Perhaps I'll change my mind if they start making them laced with platinum). I also much prefer to mix things up. That way I can experiment and throw my own spin on things. Much more fun! Not that there's anything wrong with going top-to-toe designer – we just need to be mindful about how we put it all together. Because, there's always the risk of over-styling or looking OTT with statement or super-embellished designer pieces (great for the catwalk and editorials but not so much for the every day).  Worse, you could actually come off as lacking in personal style!  So how then to get the best of both worlds?
#1. LUXE IT UP. High street outfit with high-end accessories
Elevate a high street outfit with high-end accessories: bag, belt, shoes, sunglasses or scarf. Be careful not to overdo it though, the aim is understated chic!
#2. TONE IT DOWN. High-end statement outfit with low-key (but excellent quality) high street accessories OR no accessories
If the main event is a statement designer piece turn down the volume with excellent quality but understated high street accessories. And if in doubt, go without  – you'll want to avoid letting down the whole look by a poor choice of accessories.
#3. QUALITY QUALITY QUALITY. Cheap ain't always about the price tag
True, some high street pieces can look and feel cheap. Equally, some high-end pieces can look tacky and gaudy. Try and avoid both types of cheap if you can! For me it comes down to this: if something is well made, looks great and is good value for money –  whether it's high-end or high street –  I will get it.
#4. AVOID LOGO OVERLOAD. One is enough
I'm a fan of a logo'd t-shirt or sweat shirt but I know it's not for everyone. If you are like me, then I recommend investing in a high-end one (my £100 limit only applies to plain T-shirts!). You've got to be very careful though, too many designer logos and you risk looking like a billboard. With the exception of bags, my general rule of thumb is to rock only one obvious designer logo at a time.
In the end, it's each to their own and whatever makes you happy. But if you needed some pointers then I hope you've found this post useful!
Style it. Love it. And bloody own it.
Addie x
*Look out for my dedicated post on t-shirts coming soon with tips on how to find your ideal fit and where to nab the best ones.